Gaia Hotel & Reserve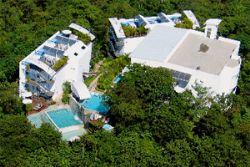 Gaia Hotel & Reserve
The Gaia Hotel achieves an ideal blend of modern amenities and natural scenery. Nestled in the magnificent coastal forests of Costa Rica, the hotel's well-appointed, terraced suites and villas offer views of lush and pristine wild surroundings that are beyond compare. The hotel sits on a vast tract of lowland coastal forest, teeming with spectacular and rare wildlife.
Gaia Hotel & Reserve Dining:
...

Serving discerning travelers for more than 40 years JourneseSM embodies the promise of a memorable vacation experience, with fine travel made easy through our knowledgeable Destination Specialists.
Every vacation is backed by our world-class concierge service and can be completed with upscale amenities, all classes of air service, including first-class and exquisite experiences including private options, ranging from helicopter excursions to romantic dinner cruises. We p
...