Jade Mountain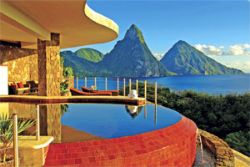 Jade Mountain
Situated on Morne Chastanet and overlooking the Caribbean Sea, this new and exclusive resort was designed in harmony with nature. Each exquisitely appointed bedroom, living area and extravagantly sized private infinity edge pool glide into one another to form an amazing platform floating in space, with no fourth wall. The beachfront property features a spa, leisure and sports facilities.
Land price is per!-->
...

Serving discerning travelers for more than 40 years JourneseSM embodies the promise of a memorable vacation experience, with fine travel made easy through our knowledgeable Destination Specialists.
Every vacation is backed by our world-class concierge service and can be completed with upscale amenities, all classes of air service, including first-class and exquisite experiences including private options, ranging from helicopter excursions to romantic dinner cruises. We p
...